You have heard of Team Losi Racing and wondered what they are all about.
Currently I am building a TLR 22-4 and I thought I would point out why Losi should be considered THE brand to buy.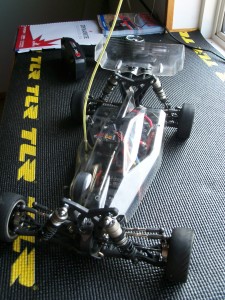 If you look closely at how and why a truck is built you will find a number of things that you should think about when buying and building your very own truck!
This Team Losi buggy has a sealed internal drive train.  This means that all of the parts inside the chassis are sealed from dirt and mud.  When you're running the truck through lots of mud, dirt and gravel, it is VERY important to keep all of that out of the drive train.  Gears don't last long when they have grit getting into them.
The Team Losi buggy also has parts built out of extremely high quality materials like titanium nitride (Ti-Nitride), carbon fiber and kevlar.
The higher quality the parts the longer and faster the buggy will run without as much time on the bench.
TLR (Team Losi Racing) makes a point of building their kits to be world class and one of the best!
The best is found in the small details.
Stay tuned for more build tips tricks and information.  Also, make sure you stop by the shop and chat with me (Chris).
I can help you!
I guarantee that we can set you up with some of the most amazing moments of your life with R/C Trucks, Airplanes and several other options.  Stop by so we can get started today!